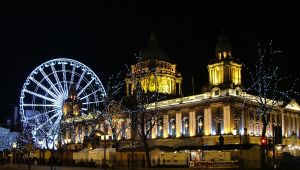 The aims are:
Allow visitors to write their own reviews without login or signup.
Allow you to see the reviews of other people on each venue.
Illustrate as clearly as possible the location of each venue.
There are no strict boundaries to the scope of this website, although a rough limit of 10 miles radius from Belfast City Hall can be assumed.
Read on to find out about some of the features this website has to offer...
Top 5
Here are the top 5 rated bars on this site. Have a look for yourself !
See It in Google Earth
You can now see the location of the venues in Belfast Bar inside Google Earth. To see a map, go to the review of a venue and then scroll down the the Location section.
Map of Belfast
Visit the Map of Belfast to see for yourself where bars in Belfast are located. Using this tool is the best way to plan a bar crawl or pub crawl. You can zoom and drag the map to allow easy use.
List of Venues
If you know the name of the pub, bar or club that you wish to read more about then go to the A to Z Listing of all the venues held on the Belfast Bar system.
Remember! If you can't find a venue you are looking for, then add it yourself using the Add a new Venue section. Only the name of a venue is required to start. Any extra details can be added later by other visitors to Belfast Bar.
Add Your Own Venue
Please visit the Add a Venue section to submit a review of an establishment that is not yet featured. It only takes a few details to add a venue and other visitors can than add to this information later.
Rate a Venue
There is a facility to allow everyone a chance to give there own rating for each venue. Hopefully this will allow a fair comparison to be made between them. To vote, visit the details page for the venue and you will find its vote tool near the bottom of the page.
Contact Belfast Bar
If you have any technical queries or general suggestions please contact us. Any comments (good/bad/ugly) will be appreciated and will be responded to in a timely manner.